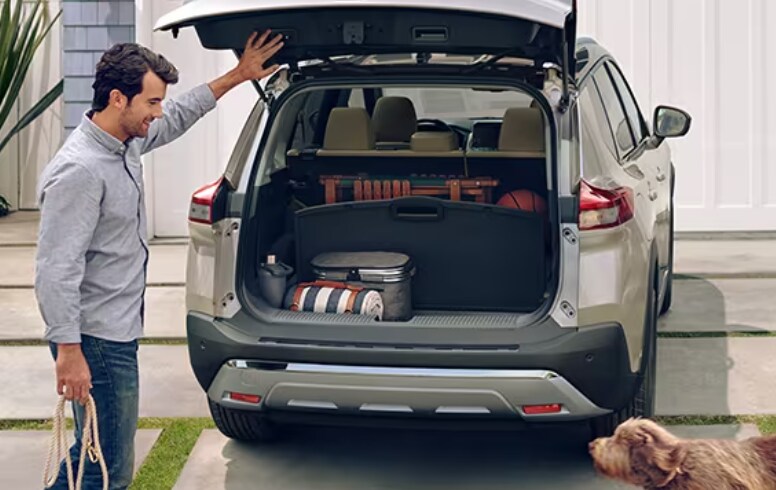 Are you in the market for a new crossover SUV and trying to decide whether to go with the Honda CR-V or the Nissan Rogue? Before you commit, it's essential to consider all aspects. After all, both models have become incredibly popular recently, but which is truly right for your lifestyle and budget?
To help make this decision as easy as possible, we've created an ultimate comparison between these two vehicles that covers everything from performance capabilities and driver assistance features to fuel efficiency ratings and interior space. Keep reading to explore the finer details of each model and discover which one comes out on top!
Pros Of Nissan Over The Honda Model
1. Advanced Interior Technology
With its advanced interior technology, the Nissan Rogue outshines the Honda CR-V by providing an 8-inch touchscreen and four speakers as standard. You can upgrade with a 9-inch touchscreen, wireless Apple CarPlay, and a 10-speaker Bose stereo.
The Honda CR-V lags in comparison with its 5-inch display and four speakers as standard, with optional upgrades such as HD Radio and an optional 7-inch touchscreen available. With its additional features like device charging, wireless connectivity, and a powerful audio system, the Nissan Rogue offers tech-savvy drivers more convenient and reliable access to their favorite apps and media.
2. Solid Fuel Economy
The Nissan Rogue's fuel economy may just be the edge it needs to give the Honda CR-V a run for its money. With front-wheel drive alone, the Rogue S boasts 37 mpg highway and 30 mpg city, making it the most efficient of the two models. And even after opting for all-wheel drive, these numbers are still quite impressive at 35 on the highway and 28 mpg in the city.
The CR-V may also be able to hold its own with 28 city/34 highway ratings with FWD paired with 27/32 on AWD; however, it can't compete with what Nissan offers. Though there are many factors to consider in purchasing a car, this unique feature helps offer great value for your fuel dollar spent with the Rogue over what is provided by Honda.
3. Better Safety Features
The Nissan Rogue offers an impressive array of advanced safety features that set it apart from the Honda CR-V. The Honda CR-V merely received a Top Safety Pick award, whereas the Rogue received the prestigious Top Safety Pick Plus designation from the Insurance Institute for Highway Safety.
Drivers may maneuver more safely on city streets or highways thanks to standard Rogue features like forward collision warning, automated emergency braking, departure warnings, automatic high lights, and cross-traffic alerts. The Nissan Rogue is the best choice for a vehicle packed with comprehensive safety features that cover every possible scenario.
4. Top In-Ride Highlights
The Nissan Rogue is practically packed with top-notch features. On top of the ProPilot Assist semi-autonomous system, higher trim models also offer quilted leather seats, a digital gauge cluster, tri-zone climate control, and a panoramic moonroof. That's a fantastic variety of amenities that can all be found in the Rogue at a very reasonable price.
It's no wonder that when it comes to in-ride features, the Nissan Rogue is one step ahead of its competitors like the Honda CR-V. So, if you're looking for an SUV with all the bells and whistles you could ever want, then the Nissan may be just what you need.
5. Better Front Leg Room
Nissan Rogue has the edge over its Honda CR-V competitor regarding front legroom. The Rogue has up to 41.5 inches of legroom in the front seats compared to only 41.3 in the Honda. The extra space helps extend comfort for everyday driving and significantly longer trips; you can stretch your legs out without feeling confined or too cramped while still being safe and secure in a sturdy car.
It also has adjustable footrests and an adjustable angle driver's seat that can help you drive more comfortably for hours. With its enhanced ergonomics, convenience, and more room for passengers, Nissan Rogue is the clear winner in front legroom!
6. Great Price To Value Ratio
The Nissan Rogue offers undeniable value through their price-to-value ratio when compared side-by-side. The base model Rogue S is significantly cheaper than the lowest-priced Honda CR-V EX yet still offers comparable power output with the highest trim in the lineup.
Even more impressive is when its top-of-the-line Platinum variant featuring all-wheel drive is pitted against the Honda Sport Touring option —- it remains at a much lower cost yet still delivers power and performance that can compete. In short, Nissan has provided an incredible bargain for buyers looking for excellent quality for a fraction of the cost.
Wrap Up
After exploring all the features and aspects of the Nissan Rogue and Honda CR-V, it is clear that the Rogue offers a better value than its competitor. If you want a vehicle with excellent fuel economy, advanced interior technology, top in-ride highlights, and better safety features, then the Nissan Rogue should be your choice!
The bonus of more front leg room makes this car much more comfortable for taller drivers or passengers. When comparing the price to value, it is also essential to consider that the Nissan Rogue has a slightly lower starting MSRP price point, making it the ultimate choice for budget-conscious buyers.